Non-QM lending may surge 400% in 2019, per the annual Origination Solutions Survey from Altisource Portfolio Solutions.
The company asked more than 200 "decision makers" in the mortgage origination business what they thought was the most promising market opportunity.
Most Promising Opportunity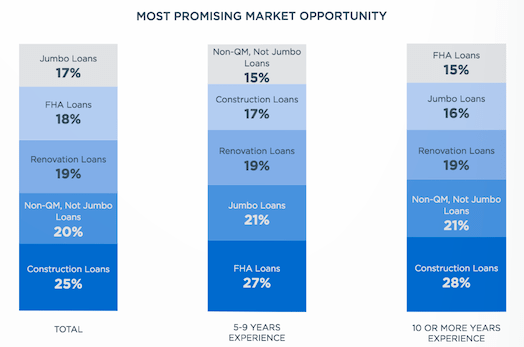 Unsurprisingly, near the top of the list were non-QM loans, cited by 20% of the respondents, only narrowly beaten out by construction loans at 25%.
However, the non-QM category excluded jumbo loans, which are quite common in the non-qualified mortgage space.
400% Growth for Non-QM in 2019!
While 2019 is expected to be challenging due to a decline in refinance volume, assuming mortgage rates actually move higher, non-QM lending might be one of the bright spots.
The non-QM numbers are still somewhat hard to track reliably, but Altisource did reference a HousingWire article in saying the non-QM market is predicted to grow by 400% this year.
That could be a move from $2 billion in annual production to $10 billion in 2019.
They noted that while this exponential growth figure only represents an increase of $5 to $8 billion in production annually, "the appetite for this asset class is still growing and the non-QM opportunity should be watched."
In other words, that rather bold prediction may wind up being too conservative depending on how the mortgage market turns in 2019.
They added that at the moment, "demand does not represent supply and therefore the non-QM opportunity is something to watch over the next 12-24 months."
What's Holding Non-QM Lending Back?
While the numbers look pretty amazing, respondents did voice some concerns about new loan types.
One of the biggest issues is the experience of underwriters, who may need training to properly assess risk on non-QM loans.
Similarly, loan officers may also need to undergo training to educate themselves on the many loan programs offered by these lenders.
There's also the issue of unloading the underlying loans since they often can't be keep in portfolio. This means finding a purchasing investor and facing the repurchase risk that goes with it.
"In this environment we believe the largest growth areas will be alternative products like construction, non-QM and CRA loans."
"This could be a watershed moment to invest in these types of products to grow market share."
The message is clear – non-QM is not only here to stay, but growing rapidly. And it might just be the solution needed to offset the expected drop-off in loan origination volume.
Read more: Lenders that offer non-QM loans.