The first iteration of something is rarely what stands the test of time, and it appears the Qualified Mortgage rule might be at risk of change as well.
That is, if the Mortgage Bankers Association gets its way.
While speaking at the MBA's annual secondary market conference in New York City, MBA President David Stevens reportedly expressed concern about the way the rule is currently written.
The GSE Patch
He took issue with the current "GSE patch," which essentially makes the QM rule not really a rule. Why? Well, loans backed by Fannie Mae and Freddie Mac are exempt from one of the key rules.
The 43% maximum DTI ratio doesn't apply to these loans, though this temporary definition will expire no later than January 10th, 2021.
It can happen earlier if the GSEs are no longer under federal conservatorship, something that's certainly a possibility given all the hoopla surrounding the pair and investors (hedge funds) looking to make a buck.
Steven noted that Fannie and Freddie are approving "a lot" of mortgages that exceed this 43% limit, which could be problematic if things all of a sudden change.
Specifically, he pointed out that both CFPB director Richard Cordray and the FHFA boss Mel Watt have limited terms, and could be replaced well before that 2021 date.
And as such, there is no telling what their replacements might do once in office.
Remove the 43% DTI Cap?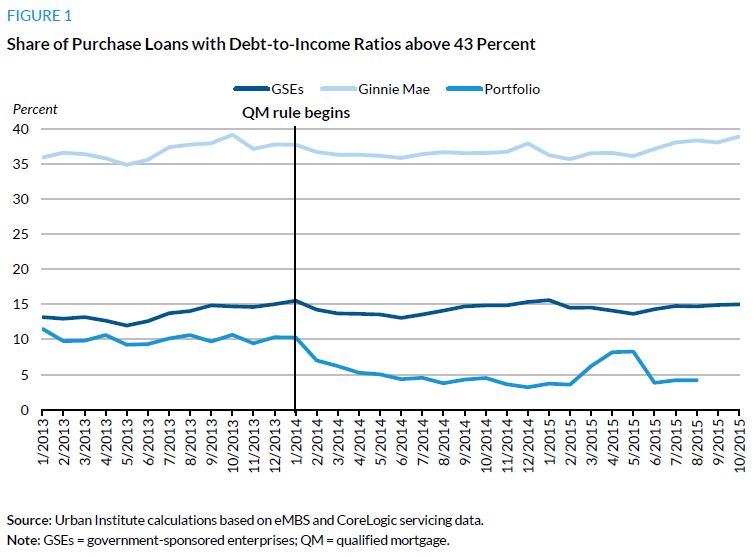 Stevens wants the QM rule to "stand on its own two feet," adding that the FHFA shouldn't oversee "national mortgage underwriting" rules, especially seeing that they might not even be around in the foreseeable future.
Instead, he wants a uniform approach for all loans, regardless of whether they're sold to the GSEs or a private investor.
Our assumption is that he wants the DTI rule eased or removed for all types of loans, no matter what private company (or public entity) backs them.
And presumably wants this rule set in stone, as opposed to temporary and at risk of shutting out a large chunk of borrowers, especially as home prices continue to rise.
There may come a time when many borrowers won't qualify for a QM loan based on DTI ratio alone, which would likely be a boon for the non-QM loan market.
As you can see from the chart above from the Urban Institute, mortgages with DTI ratios above 43% have taken a dive since the QM rule went into effect.
Meanwhile, high-DTI loans are chugging along per usual on GSE and Ginnie Mae loans.
Once the temporary patch is removed, some 13.1% to 15.6% of GSE borrowers and 35.7% to 38.9% of Ginnie Mae borrowers may have to look to portfolio lenders to get home loan financing.
photo: Brandi Redd