Well, it appears the non-QM industry has been rocked by the coronavirus news, which isn't surprising given just about every business and individual has been affected thus far.
It's hard enough to be any home loan lender these days, let alone a non-QM lender, thanks to the ongoing coronavirus (COVID-19) crisis that's wreaking havoc on the global economy.
The Federal Reserve already stepped in to provide liquidity to the ailing and oversupplied agency mortgage-backed securities (MBS) market, but that has only perhaps stopped the bleeding.
What about non-agency MBS? How will non-QM lenders survive when even government-backed mortgages are having trouble making it to the finish line?
Non-QM Lenders Are Suspending Operations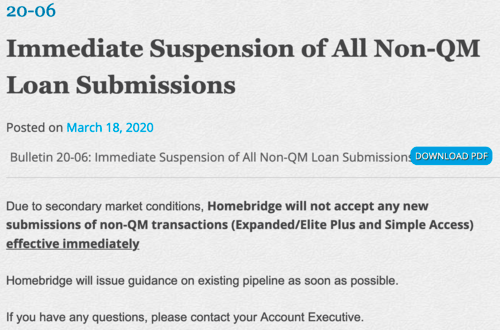 The answer is unclear. In the meantime, it's feeling a lot like 2006 again, with lenders either suspending all new business or at least new rate locks.
First up we've got Irvine, CA-based HomeBridge Wholesale, which announced on its website that it is immediately suspending all non-QM loan submissions.
The reason? Secondary market conditions. With regard to their existing pipeline of non-QM loans, they say guidance will be issued as soon as possible.
Meanwhile, St. Peter, MO-based Hometown Equity Mortgage, LLC dba theLender is also "temporarily suspending fundings of all NON QM Loans effective immediately."
Additionally, they say "no registering of new loans, no processing, no locking and no funding of current NON QM loans."
However, they are still accepting and funding FHA/VA/USDA and conventional loans.
Are Bank Statements More Reliable Than Tax Returns?
Then there's Angel Oak Mortgage Solutions, which has immediately capped all loan programs at 80% LTV, raised minimum credit scores to 680, and now only allows Borrower Paid Compensation.
The good news is they're still apparently doing bank statements, which brings up another good point. Can lenders rely on bank statements right now versus tax returns?
On the one hand, bank statements might show that the borrower has money in the bank, whereas a tax return might show that the borrower made X last year and the year before that.
But do last year's taxes mean anything today, with the coronavirus essentially shutting down the global economy and likely leading to millions of layoffs or general loss of income?
One could argue that it's better to have cash on hand, though it depends how it's all underwritten.
And even then, without a guaranteed buyer like the Fed, it might be tough out there for a non-QM lender.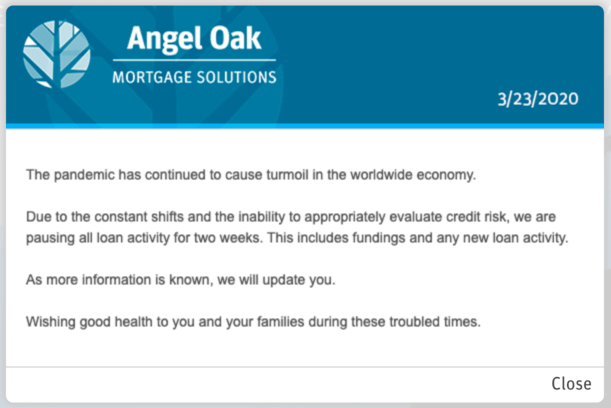 What else? Well, SG Capital has suspended new loan submissions and new locks.
Citadel Servicing Corporation is temporarily pausing loan originations for the next thirty days due to California's Stay at Home Order.
Angel Oak Mortgage Solutions is pausing all loan activity for two weeks.
Redwood Trust may have also stopped taking locks, along with Luxury Mortgage, NewRez on its Non-QM Smart Series and High Balance Extra loans, and Galton's bank statement program is reportedly suspended.
PRMG has stopped taking in new apps and locks on many if not all of its non-QM product lines.
There's also word of massive repricing going on, so non-QM mortgage rates may have surged in recent days.
Chase correspondent released a bulletin saying it's "discontinuing our acceptance of Non-QM Documentation Features" as a result of market changes.
And Flagstar Bank, which provides warehouse lending to non-QM lenders, has apparently exited the market due to "declining market conditions."
There you have it. So far, no good. It smells of the mortgage crisis seen about 14 years ago, and could get worse.
Even those originating Qualified Mortgages are having trouble – no one seems to be spared.
Just remember, non-QM is not subprime. Right? Even if it's not, it might be experiencing a similar fate.
Stay tuned for more as this develops.